Norah's Speaking Engagements
---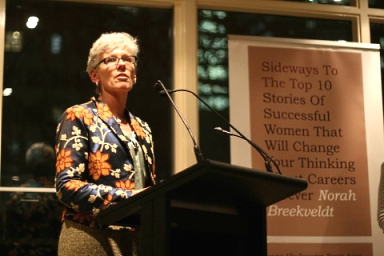 2016
Holden, International Women's Day event – Sideways to Success
2015
Motorola Solutions Annual Channel Partners Conference – Future Proofing your Business with Succession Planning
Holden, International Women's Day event – Sideways to Success
2014
Women at Coles Forum – February 2014
Guest speaker, Monash University International Women's Day – March 2014
Australian Women's Leadership Symposium – 27thJune 2014
2013
Liquid Learning – Women in Engineering Leadership Summit
Liquid Learning – Women in Finance Leadership Summit
CEDA Copland Leadership Program – Demolishing Myths About the Brain
Ampersand Breakfast Briefing – Creating Executive Presence
Ampersand Breakfast Briefings (Melbourne and Sydney) – A Brain Based View of Executive Integration
2012
Tonkin Talent Forum – The Neuroscience of On-boarding
Brainwave Network Master classes and breakfasts:
An introduction to Neuroleadership
Neuroleadership of decision-making
Do Women Lead Differently to Men?
Making Change Stick
ANZ – Neuroleadership and Career Resilience
INVESCO – Mastering the Art of Difficult Conversations
INVESCO – Career Resilience in Difficult Times
---

Author of
Sideways To The Top – 10 Stories of Successful Women That Will Change Your Thinking About Careers Forever (Melbourne Books, 2013)
Career Interrupted – How 14 Successful Women Navigate Career breaks (Melbourne Books, 2015)
---
Other book-related speaking engagements:
2015
Herbert Smith Freehills, Melbourne, and PwC, Sydney – Tackling Gender Equality by Disrupting the Status Quo 
2014
DCA's Gender Reporting Network – Grab That Opportunity
Melbourne Forum – Key insights
2013
Fenton Communications Networking Group – Key Insights
Macfarlan Lane breakfast – Identifying and Seizing Opportunities
FREE SIGNED BOOK
Be one of the first 20 people to sign up to 10 coaching sessions and receive a signed copy of Me and My Mentor - How Mentoring Supercharged the Careers of 11 Extraordinary Women.
Contact us via the form below.
LATEST NEWS
Victoria Khroundina of SheRa Mag chats to Norah about inspirational women, some of the obstacles they faced in the workplace, and personal strategies that can help women navigate career breaks.
Read on