Breekthrough Strategies for Organisations
---
Creating performance-driven organisations
Improved business performance is driven through aligning people to an organisation's vision, strategy and values and creating a high performing culture.

Breekthrough Strategies helps organisations plan and communicate a better business strategy and develop a workforce truly committed to your business' success.
Here's how we can assist:
We facilitate discussions with your managers and executive teams to achieve clarity around vision, direction, strategy and underpinning values. We ensure the key questions are asked and debated in your business, and expose your managers to current methodologies and concepts to assist them in sound forward thinking and strategic planning.
We translate your vision into practical and effective change management strategies, where every individual has clarity around their contribution to the organisation's success.
We objectively diagnose and evaluate your company's culture, leadership and management style, people capabilities, and your people and culture plans, processes, programs, and delivery systems. We will then advise you on whether your company currently has the people capabilities needed for high performance, and the systems in place to sustain it.
We guide organisations towards the creation of a workplace that has clarity of purpose and releases the potential of all employees to achieve their best.
We identify and communicate a sense of shared organisational values that guide behaviour and drive decision-making towards the achievement of your organisation's vision and strategy;
We build leadership and management capability for today – creating a pipeline of leaders for the future.
We introduce performance management systems that align individual behaviour and outcomes to your business goals and objectives.
---
Transforming the People & Culture function

We assist leaders and teams in the People & Culture function to shift their mindset from a transactional, operational mindset to a true strategic partnership that drives strategy implementation.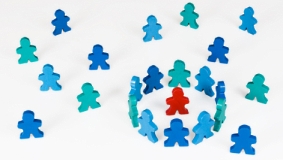 Breekthrough Strategies will:
Undertake an independent and objective view of the operations and capabilities of the function against contemporary practice, processes, systems and policies
Advise on restructuring the function and clarifying key roles and accountabilities.
Develop competency models and development plans that outline the core skills, expertise and capabilities that drive a strategically focused HR team.
At an organisational level, diversity and inclusion can be a source of competitive advantage. Read more or ask us how.
FREE SIGNED BOOK
Be one of the first 20 people to sign up to 10 coaching sessions and receive a signed copy of Me and My Mentor - How Mentoring Supercharged the Careers of 11 Extraordinary Women.
Contact us via the form below.
LATEST NEWS
Victoria Khroundina of SheRa Mag chats to Norah about inspirational women, some of the obstacles they faced in the workplace, and personal strategies that can help women navigate career breaks.
Read on