Publication: Book "Career Interrupted"
---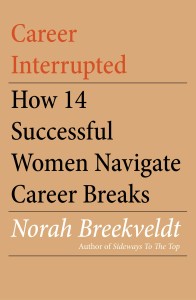 'Oh, you're pregnant. Well I guess you're off the fast-track now!'
How do women defy the odds and get their career back on track after a break?
How do women manage the mama mafia at the school gate?
Can women really have it all – a successful career and a rewarding family life?
Does overseas experience really accelerate your career in Australia?
How do you recreate your career after a setback?
Norah Breekveldt's latest book "Career Interrupted: How 14 Successful Women Navigate Career Breaks" profiles fourteen high-achieving women who talk openly about their challenges in carving out a successful career after a break. These women come from all walks of life — from battlers to privileged backgrounds, from large corporates to small business, from professional services to the community sector. Several women had children and talk candidly about what it's like to be in the throes of mother guilt and come out the other side; some are expatriates who returned to Australia to rebuild their career, yet others had to re-establish their career after a misstep. These stories are interwoven with the latest research from thought leaders around the obstacles and pitfalls in leaving the workforce for a time, and include practical and proven strategies to overcome these hurdles.
Elizabeth Broderick, Australia's Sex Discrimination Commissioner endorsed this book. She said:
'Thank you, Norah, for sharing the voices of women who remind us we can own and shape an equal and just future for all women and men everywhere. This book reminds us that work and care should not sit at opposite ends of one hard choice.'
For a sneak peek at Maggie Evans-Galea's chapter go to The Game of Snakes and Ladders
What have been the common findings from the amazing women profiled in Career Interrupted? Their insights are captured in the THRIVE model at Work-life balance – the impossible dream?
Ever been tongue-tied when someone has made an inappropriate remark towards you? Then read these comebacks and you'll have a quick response ready Combatting sexism at work
Is it better for mums to stay at home or go back to work? Read the latest research at Why mum's decision to go back to work is great for the kids
FREE SIGNED BOOK
Be one of the first 20 people to sign up to 10 coaching sessions and receive a signed copy of Me and My Mentor - How Mentoring Supercharged the Careers of 11 Extraordinary Women.
Contact us via the form below.
LATEST NEWS
Victoria Khroundina of SheRa Mag chats to Norah about inspirational women, some of the obstacles they faced in the workplace, and personal strategies that can help women navigate career breaks.
Read on